Denver Real Estate News: Washington Post Ranks Every County In United States By Natural Beauty
The index combines "six measures of climate, topography, and water area that reflect environmental qualities most people prefer." Those qualities, according to the U.S. Department of Agriculture, include mild, sunny winters, temperate summers, low humidity, topographic variation, and access to a body of water.
See the full Denver Real Estate News article Every county in America, ranked by scenery and climate at https://www.washingtonpost.com/news/wonkblog/wp/2015/08/17/every-county-in-america-ranked-by-natural-beauty/ .
The article outlines:
These "natural aspects of attractiveness," as the USDA describes them, are intended to be constant and relatively immutable. They're not expected to change much over time, so the USDA hasn't updated its data beyond the initial 1999 scoring. "Natural amenities pertain to the physical rather than the social or economic environment," the USDA writes. Things like plants, animals or the human environment are excluded by definition. "We can measure the basic ingredients, not how these ingredients have been shaped by nature and man."
A few Colorado mountain counties are in the top 50 most beautiful counties in the United States.
Where do metro Denver counties rank in natural beauty? From worst to best below.
---
"This county has high natural amenities. Rank 399 of 3,111 counties."
Search all homes for sale in Arapahoe County here
---
"This county has high natural amenities. Rank 374 of 3,111 counties."
Search all homes for sale in Adams County here
---
"This county has high natural amenities. Rank 324 of 3,111 counties."
Search all homes for sale in Denver County here
---
"This county has very high natural amenities. Rank 104 of 3,111 counties."
Search all homes for sale in Douglas County here
---
"This county has very high natural amenities. Rank 104 of 3,111 counties."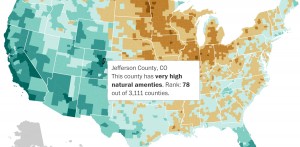 Search all homes for sale in Jefferson County here
---
"This county has very high natural amenities. Rank 71 of 3,111 counties."
Search all homes for sale in Boulder County here
---