The following homes were selected to see on September 17th based on the Buyer's desire for a stand alone homes in central Denver under $350,000. We visited Denver neighborhoods like the LoHi neighborhood with nearby dining, the Sloan's Lake neighborhood with nearby parks, the Baker neighborhood with nearby nightlife, and the Cole neighborhood with nearby lightrail and rail to the airport were selected.
See all homes that fit this basic (central Denver homes under $350K) Denver home search criteria here.
Denver Realtor Reviews: Denver home search September 17th
3451 Mariposa – Buyer rating 5
Big one car garage in the back. Nice exposed brick in the living room. You have to walk through the bedroom to get to the garage. Nice high ceilings. Tile countertops but fairly updated kitchen.
---
3800 26th – Buyer rating 6
Kitchen is is small but they have managed to create a lot of countertop space And Cabinet room. The countertops are not the highest end. Hardwood floors throughout. 2 bedrooms have access to the bathroom in between them. Some older Windows some newer windows. Old fireplace that probably is not functional. Basement laundry. A basement bedroom with some exposed brick. 26th is a pretty busy Street. There is a bus stop right in front of the house. Garage and the car pad has room for at least two vehicles off-street. Yard is Big with a shed. Big back yard deck.
---
447 Cherokee – Buyer rating 5
Dark hardwood floors. 10 foot ceilings. Exposed brick in the living room. Newer windows. Chrome Hardware. Old style flooring in the bathroom with a clawfoot tub. Nice grey cabinets with a white quartz countertop in the kitchen and a copy for the microwave in the kitchen. Cabinets are soft close. Countertop to.ceiling backsplash behind the stove and sink. Refrigerator sticks out a little far for the sink in the kitchen. Washer and dryer hook up in the back add on. Utilities and seller with some space for storage. Able to see the better part of the crawlspace. Lower-level had something of a moist odor to it.
---
418 Fox – Buyer rating 4.5
Nice brick wall the entire length of the home. Good size backyard. Laundry is in the very back. One negative is that you have to walk through the back bedroom in order to get to the back door. Finishes are not as high and as Cherokees what does have granite tile countertops and stainless steel appliances. Living area feels big enough to have a dining room and TV / sitting area should be pretty functional for furniture.
---
3633 York – Buyer rating 6.5
Brick appears to be covered by stucco. York Road noise is loud. Side entry. Wood floors are in decent shape but need to be refinished. Very spacious living room dining room and kitchen. Kitchen layout is not ideal but useful. Nice big bedrooms. Bigger bathroom. Lots of basement storage. Laundry in basement. Fireplace looks functional. Gigantic mechanic's garage. Big yard with chicken coop and gardening boxes.
---
3451 Lafayette – Buyer rating 6
Hardwood floors in the kitchen and back bathroom. Laundry in the kitchen. Very nice updates in the bathroom. Long living and dining area. Wainscoting or beadboard in the dining and living room and the bathroom and the kitchen. Stainless steel appliances in the kitchen. Looks like Travertine around the tub. Front bedroom feels a little bit small back bedroom seems a little bit bigger but not big. Nice would work around the dining room windows. Building cubby in the dining room. Backyard is large. There is a parking pad in the backyard that has a remote control gate possibly. Home has good curb appeal with a wrought iron fence in the front. Spacious cellar.
---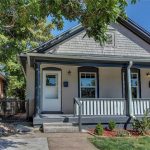 1823 w 38th – Buyer rating 4
Hardwood floors. Nice finish on the kitchen with quartz countertops and dark cabinets. Good cabinet space. Stainless steel appliances. Newer windows. No dining room in the living room seems a little bit tiny not a lot of room for furniture. Barn door on bedroom very cool. Bedroom seems decent size. Laundry hookups and back bathroom. Bathroom has nice finishes. Fairly large backyard with Rock and concrete. Good parking pad for two to three vehicles. 38th is a  same major road with lots of traffic and noise.
---
Sorry, this website is not authorized - denverhomesales.info
---